The Almirah Where Your Family Outfits Always Look Good
Posted by TEAM ALMIRAH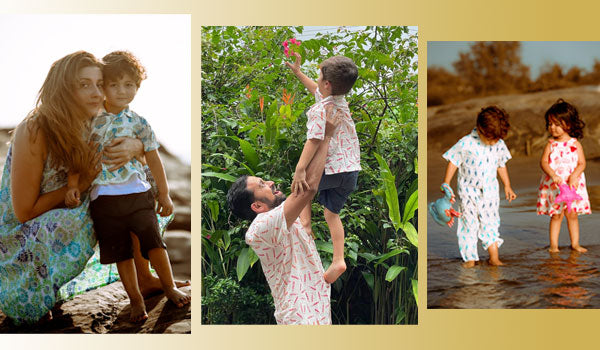 When we are young, we love to dress up not just with our siblings and friends, but also be in matching outfits with our mums and dads!
Father-daughter or son, mother-baby matching is one trend that we want to promote and for all the good reasons! We have helped grandparents match their grand kids in style, had dads bonding with their sons and mum go on matching vacation sets
 1. Hum saath saath hai, or the notion of togetherness is what this matching evokes for your child. They feel more connected to you and reinforce the notion of being a team, of bonding and that extra love if you needed some!
 2. The confidence for a child is an essential ingredient in growing up. Yes, some kids may not need that extra boost but hey- the sense of validation and confidence you feel when your parents are wearing the same haathi shirt at the family lunch and being a saathi with dad, is a joy no one can really take away.
 3. Fun Non Verbal Communication takes on another vibe with parents bonding with their kids jumping into bed with the same pyjama suits! This can be fun, breaking barriers of what's kiddish and what's grown up and just making us what we all want to be- one unit!
 4. It's all about creating memories, and with the digital lives we live, these matchy matchy photos create memories that last forever! Perhaps not just now but these lasting memories will be something you will look back on ,fondly and share for decades to come!
So if there is a birthday, a family vacation or that birthday gift you need for your family look no further. We have the answers right here for you! Matching shirt sets for pops, vacay sets especially for the beach bums and the perfect sleepover with your kiddos. Hey, don't forget its all for a good cause… to make that family bond even C-L-O-S-E-R! Collection 2019 Sale 70% Off Title for image